Equipped with professional and productive Keyboard Switches factory, Huizhou Greetech Electronics Co.,Ltd is one of the leading China red switches manufacturers and suppliers.
Quick Details
Products Status: Stock

Application: Desktop

Type: Wired

Style: Other

Interface Type: USB

Brand Name: ZING EAR

Model Number: GT02A1DNN

Place of Origin: Guangdong, China (Mainland)

Stem color: Blue, brown, black, red.

Contact Material: Au Alloy

Mounting way: no pins, snap in PCBA

RGB type: can be inserted with LED

Rating: 12VDC/AC max.10ma AC/DC max

Electrical life: over 50,000,000 cycles (Load )

Mechanical Life: over 50,000,000 cycles (No Load )

Ambient Humidity: <85%RH

Max Voltage: 12v AC/DC maximum

Current Rating: 10ma

Packaging & Delivery
Packaging Details:
Hot selling momentary keyboard push button switch
1.pact out: 6000pcs/CTN
2.Gross Weight: about 3.5KG/CTN
Delivery Detail:
1~2 weeks after order received
Hot selling momentary keyboard push button switch
Product Description
Features:
- Desktop profile,0.60 inch(15.2mm)from PCB(no keycap)
- Choice of feel: linear,soft tactile,click tactile
- PCB or frame mount
- Long life 50 million operations
- LED,diode or jumper option
- 12V maximum AC/DC
- Current Rating: 10mA
- Insulation Resistance:<100M Ω at 100V DC
Drawing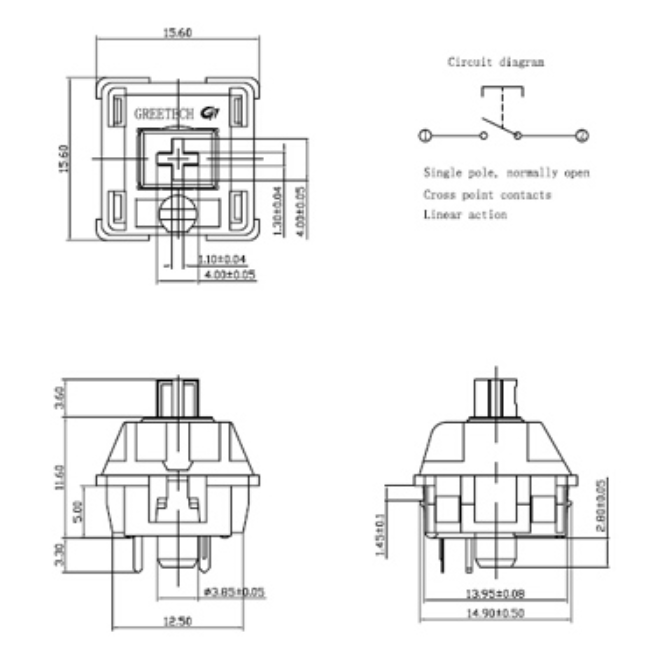 Parameters
Electrical Characteristics
Rating
12VDC/AC max. 10mA AC/DC max
Contact Resitance
200MΩ max (25MΩ typical )(initial value)
Insulation Resistance
100MΩ Min
Voltage Resistence
AC 100V (50-60Hz) 1Minute
Eletrical life
Over 50,000,000 cycles (Load)
Bounce Time
400mm/s 5msec (operation speed at 400mm/spec)
Mechanical Reliability
Operating Force
See Detail Spec
Pre-travel
2.0+/-0.6mm
Total Trave
4.0+/-0.4
Mechanical Life
Over 50,000,000 cycles (No Load)
Operating Temperature Range
(-40℃~ + 80℃)
Ambient Humidity
</= 85% RH max
Solder ability
260℃+/-5℃ 3S+/-0.5S
Soldering Heat Resistance
260+/-5℃ 3S+/-1S
Soldering by hand
Use a 30 watts soldering iron for about 3S at 350 ℃ while soldering
Trade Terms
1.The price is based on FOB Shenzhen or Hongkong or EXW factory
2.MOQ:5000pcs
Payment:T/T payment,50% deposit before production, balance 50% before shipment
Certificates
ISO9001&TS16949
ENEC UL CUL &CQC
RoHS & Reach
Solding Parameters
1.Flux Station
A.Flux-Fry type GR8
B.Applied by foaming
C.Specific gravty-0.820 g/cm3
2. Conveyor Speed
A. 2.3 meters/min
3. Pre-heat Temperature
A. +85℃ measured on top surface of PCB
4. Solder
A.63/37 alloy
B. Dry wave-no oil
C.Approximate contact with wave-2 seconds
5.Cleaning
A. Fry GR8 is non-hygroscopic flux and does not require cleaning
B.
If cleaning is required on isolated areas such as finger connector,cold cleaning by hand with Alpua 564 is recommended,Care must be taken to avoid solvent entering the keymodle.
Application
Mainly applied on computer keyboards,cash registers,industrial equipment and Man- Machine interfaces.
Related products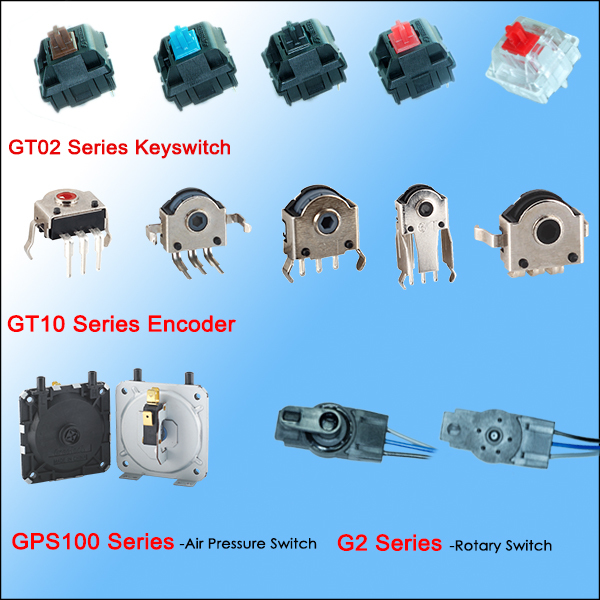 Packaging & Shipping