Equipped with professional and productive micro switch factory factory, Huizhou Greetech Electronics Co.,Ltd is one of the leading China micro switch factory manufacturers and suppliers.
Quick Details
Packaging & Delivery
Packaging Details:
1. Pack out: 1000pcs/ctn.
2. Gloss weight: about 2.7kgs
3. Shipper carton size: 400x305x220mm
Delivery Detail:
2~3 weeks after PO received.
Product Description
Features
-Small compact size
-Global safety approvals
-Long life and high reliability
-Variety of actuator and terminals
-High rating to 10(2)A,1/4Hp
-Customized designs
-Widely used in auto control ,applicance control ,industrial control etc.
Drawings
Operating Characteristics

Parameters
Rating
0.1A /125VAC; 3A/ 12VDC ; 0.1A /250VAC; 0.1A/ 48VDC u 1E5.
Operating Frequency
Electrical
0.1A-120/3A-10~30 cycles/minute
Mechanical
120 cycles/minute
Contact Resistance(Initiative)
100mΩ Max
Insulation Resistance(at 500VDC)
100MΩ Min
Vibration durability
10~55Hz, move 0.75mm(p-p)
Dielectric Strength
500VAC (50~60Hz)
Storage Temperature
-40℃-+85℃
Storage Humidity
85% RH Max
Service Life
Electrical
6,000~500,000/cycles(Depend on part number)
Mechanical
Min.500,000/cycles
Related Products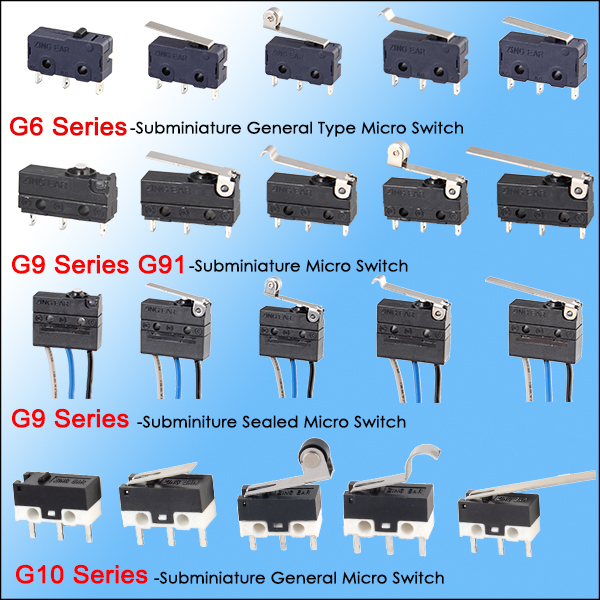 Packaging & Shipping
No.

Greetech Product

Inner Box

Shipper Carton
MPQ

Inner box size(mm)

Q'ty/(pcs)

Total GW(kgs)

Carton size(mm)

Q'ty/ctn
(pcs)
Total GW(kgs)

MOQ

(pcs)




L/T

(Days)

Total GW(kgs)

1

G3 series(terminal type)

310x215x135

3,360

3.9

440x325x300

13,440

15.3

1,000

15

1.2

2

G5 series

310x250x120

600

5.5

330x270x270

1,200

10.8

1,000

15

9.0

3

G5W11 series

310x215x135

200

4.8

440x325x300

800

19.2

100

10

2.5

4

G6 series

290x192x40

500

1.3

400x305x220

5,000

12.5

1,000

15

2.7

5

G9 series(terminal type)

290x192x40

500

1.3

400x305x220

5,000

12.5

1,000

15

2.7

6

G91 series

290x192x40

500

1.3

400x305x220

5,000

12.5

1,000

15

2.7

7

G10 series

290x192x40

600

1.3

400x305x220

6,000

12.5

1,000

15

2.7

8

GT02 series

210x155x55

300

1.2

440x325x285

6,000

12.0

6,000

15

12.0

9

GPS100 series

/

/

/

330*270*270

60

6.1

60

10

6.1

10

Switch with wire leads

310x215x135

100

1.8

440x325x300

800

14.5

800

20

14.5