Equipped with professional and productive t85 waterproof micro switches factory, Huizhou Greetech Electronics Co.,Ltd is one of the leading China t85 waterproof micro switches manufacturers and suppliers.
Quick Details
Place of Origin: Guangdong, China (Mainland)

Brand Name: ZING EAR

Model Number: G1105-35001D01E1

Protection Level: IP67

Operating Temperature: -25~+85

Max. Current: 0.5A/5A

Max. Voltage: 250VAC

Electrical life: 50,000 cycles(depends on P/Ns)

Mechanical life: 2,000,000 cycles

Rating: 0.5A/5A 250VAC 250VDC

Operating force: 200gf max

Wire type: Wire leads to the bottom

Function: DPDT

Lever type: Straight lever

Qualification: ISO9001, TS16949

Certification: UL, cUL, ENEC, CE, CQC, RoHS, Reach.

Application: Electrical Actuators, Valve Control,Automobile production line, etc.

Packaging & Delivery
Packaging Details:
1. Pack out: 1000 pcs/ctn.
2. Gross weight: about 61.8 kgs
Delivery Detail:
2 weeks
0.5A/5A 250V types of t85 waterproof snap action tower type limit switch & micro switch
Product Description
Feature
-Compact Size and Tight Configuration
-Global safety approvals
-Long life and High Precision and Reliability
-Dust and Water Proof Design (IP67)
-DPDT Double-Break Type
-Variety of Mounting Method Operation Type
-Widely used in Industrial Control etc.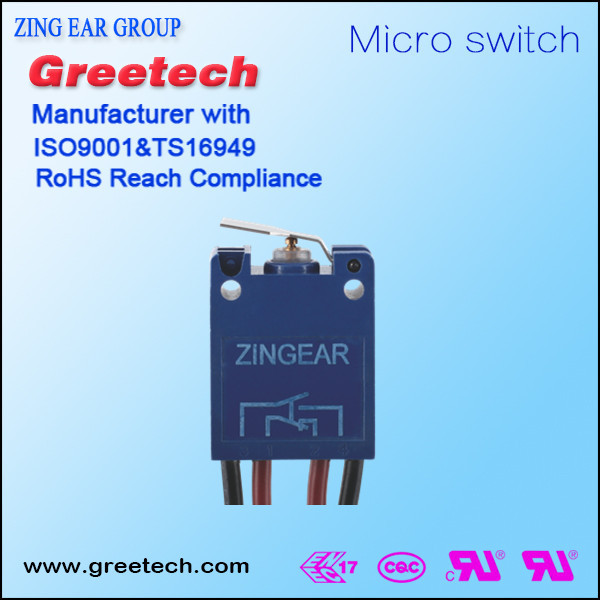 Drawing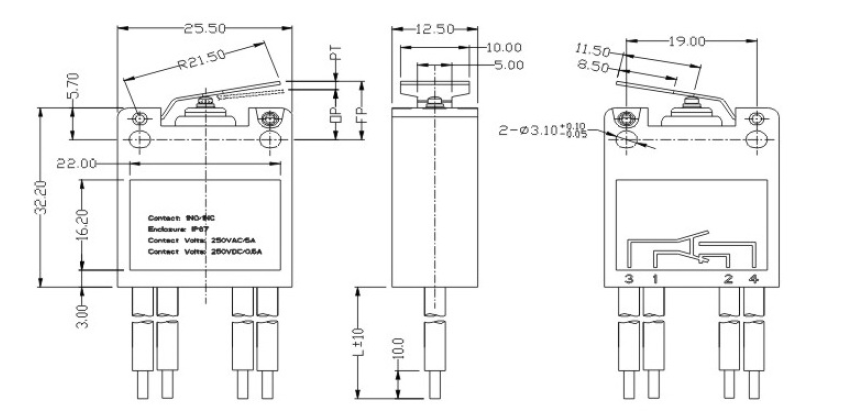 Operating Parameters

Parameters
Rating
05
0.5A 250VDC
0.5A/5A 250VAC
Operating Frequency
Electrical
10~30 cycles/minute
Mechanical
120 cycles/minute
Contact Resistance(Initiative)
30~100mΩ Max
(Depends on P/Ns)
Insulation Resistance
100MΩ Min(at 500VDC)
Dielectric Strength
AC 750V RMS (50-60Hz)
Storgage Temperature
-25°C~+85°C
Storage Humidity
85%RH Max
Service Life
Electrical
50,000 cycles(Depends on P/Ns)
Mechanical
2,000,000 cycles
Weight
Approx.110g(8 wires)
Material
Silver contacts
Application
-Electrical Actuators
-Vavle Control
-Power Station Control
-Industrial Auto Control
-Nuclear Power Facilities
-Automobile Production Line
Related products
Packaging & Shipping
Packing list
No.
Greetech Product
Inner Box
Shipper Carton
MPQ
Inner box size(mm)
Q'ty/
Total GW(kgs)
Carton size(mm)
Q'ty/ctn
Total GW(kgs)
MOQ
L/T
Total GW(kgs)
(pcs)
(pcs)
(pcs)
(Days)
1
G3 series(terminal type)
310x215x135
3,360
3.9
440x325x300
13,440
15.3
1,000
15
1.2
2
G5 series
310x250x120
600
5.5
330x270x270
1,200
10.8
1,000
15
9
3
G5W11 series
310x215x135
200
4.8
440x325x300
800
19.2
100
10
2.5
4
G6 series
290x192x40
500
1.3
400x305x220
5,000
12.5
1,000
15
2.7
5
G9 series(terminal type)
290x192x40
500
1.3
400x305x220
5,000
12.5
1,000
15
2.7
6
G91 series
290x192x40
500
1.3
400x305x220
5,000
12.5
1,000
15
2.7
7
G10 series
290x192x40
600
1.3
400x305x220
6,000
12.5
1,000
15
2.7
8
GT02 series
210x155x55
300
1.2
440x325x285
6,000
12
6,000
15
12
9
GPS100 series
/
/
/
330*270*270
60
6.1
60
10
6.1
10
Switch with wire leads
310x215x135
100
1.8
440x325x300
800
14.5
800
20
14.5